Archive from March, 2012
Be a Part of Our Passover Seder
Since the time I came to GRS, it has always been our family's great pleasure to open our home for Passover. This year, as our house is currently under construction, our dining room table is temporarily out of commission. Nevertheless, our GRS Sisterhood came to the rescue, and we are delighted to offer a beautiful catered seder for our community, both members and non-member guests. Cantor Lipton and I are eagerly anticipating sharing the first night of Pesach with all of you!
It is our hope to provide a meaningful, enjoyable and unique experience for those of all ages. Of course, as Erev Pesach falls on Friday night, we will include key elements of Shabbat – but we promise not to make it too lengthy, so all can enjoy the festive meal and one another's company.
While the Sklarz family looks forward to returning to our home, and next year opening our dining room table once again, Susan, Dani, Alex and I look forward to sharing the Seder with all of you, at our spiritual home, our beloved Greenwich Reform Synagogue.
For further information and reservations, please contact Erin Thomas at erin@grs.org or 203-629-0018.
b'Shalom,
Rabbi Andrew R. Sklarz, MA, MSW, RJE
Moments That Touch Our Hearts
Dear Friends,
When you read this column, I will be in Boston with my Reform rabbinic colleagues at the annual CCAR (Central Conference of American Rabbis) convention. However, I wanted to share a most meaningful experience that I had this past Shabbat.
Long before I considered a life as a rabbi, I had served in my youth as a camp counselor. In fact, my work as a counselor and later as a youth group leader, have had a major influence on my rabbinate. Over the years, I have been blessed to have had beautiful and enduring relationships with so many kids with whom I have worked. This past Shabbat provided a most meaningful moment for me, as the son of one of my former campers became a Bar Mitzvah, and he invited me to participate with his rabbi in the service. Standing on the bimah and offering a blessing to my former camper's son brought such warmth to my heart.
Indeed, we never know how we impact the lives of others. Life is certainly filled with wonderful surprises that bring such meaning to our lives and move our hearts.
Embrace all that life has to offer!
Rabbi Andy
Rabbi Andrew R. Sklarz, MA, MSW, RJE
CONTACTS:
Greenwich Reform Synagogue: The Stanwich School:
Sandy Soule Laura Dianis
203-637-7642 203-542-0004
sandy.soule@gmail.com ldianis@stanwichschool.org
GREENWICH REFORM SYNAGOGUE AND THE STANWICH SCHOOL
REACH PURCHASE AGREEMENT
Greenwich, CT – March 16, 2012–The Boards of Trustees of Greenwich Reform Synagogue and The Stanwich School announced today that they have reached an agreement whereby The Stanwich School will purchase the buildings and 11.5-acre property owned by Greenwich Reform Synagogue at 257 Stanwich Road in Greenwich. Financial terms were not disclosed.
The GRS Executive Committee unanimously recommends that its congregation vote in favor of the transaction. A Special Meeting of the GRS' congregation will be held on April 2, 2012 to vote on the transaction. The Board of Trustees of The Stanwich School has voted unanimously in favor of the transaction. Assuming approval by the GRS congregation, the boards of Stanwich and GRS have agreed to sign definitive contracts on April 3, 2012 and close the transaction no later than June 1, 2012.
Under the agreement, GRS will relocate its sanctuary and offices at the end of October 2012 (following the High Holy Days) to a temporary location. This will accommodate Stanwich's conversion of the sanctuary space back to its original gymnasium and theater construct. GRS will continue to use Stanwich classrooms for religious education purposes on Wednesday afternoons and Sunday mornings during the next three years, while GRS builds its new sanctuary and classroom facilities.
Greg Drennen, Chair of The Stanwich School's Board of Trustees, said, "This agreement will provide The Stanwich School with the clarity and security we have been seeking to fully control our destiny. We have long appreciated the strategic value of the GRS property and we fully believe this positive development will serve the best interests of our community, both near and long-term. The future will be firmly in our hands to ultimately build an extraordinary Pre-K through 12th grade co-ed academic and sports facility on a 37-acre campus in the heart of Greenwich mid-country. We wish GRS well as they embark on their pathway toward a permanent home for their congregation."
Bill Grad, Chair of Greenwich Reform Synagogue's Board of Trustees commented, "We are delighted that our agreement with Stanwich gives us the financial resources we need to build a new synagogue and feel that this arrangement is in the best interests of both organizations. For the interim period, we will continue our cordial and cooperative relationship with The Stanwich School, sharing their classrooms for several years as our congregation builds its new permanent home. We will arrange for lovely temporary sanctuary space during this interim period. Of course, we will keep our congregation and the community apprised as the details of our construction plans are finalized."
###
Purim 2012
Dear Friends,
Each year, everything at GRS just gets better and better, and our Purim service was certainly no exception.
This year, our celebration was enhanced by two – yes two, special Purim shpiels.
In the spirit of this year's Academy Award winner for Best Picture, The Artist, our talented adult thespians acted out silently, although with some impromptu dialogue, the Megillah. Needless to say, it was a most creative and fun-filled dramatic production.
Immediately following, our talented GRS teens took their places in a skit that focused on what happened to the Purim characters after the end of the Megillah and culminated in the realization that a giant hamantaschen had been absconded (which led to a hamantaschen hunt for all kids at the end of the service).
Furthering our excitement was a parade of costumes and gifts galore made possible through the anonymous donation of one of our many generous GRS congregants. In fact, through the kindness of our donors and our very own GRS costume seamstress, Judy Rayner, costumes were provided for those who forgot to bring their own! Of course, prizes were given to all!
Now that we have fulfilled the mitzvah of Purim, stay tuned for Pesach at GRS!
The excitement of life at GRS continues…
B'rinah - with joy,
Rabbi Andy
In honor of the 100th Anniversary of the Girl Scouts and as part of the Girl Scout Sabbath Celebration Weekend, GRS will be recognizing this wonderful organization this Friday, March 16 at 6:30pm at our Choir Shabbat Service.
Girl Scouts have an opportunity to attend their place of worship and be recognized as a Girl Scout. This is also an opportunity for girls to explore other faiths. Celebrating Girl Scout Sabbath gives a Girl Scout opportunities to 1) thank places of worship for their contributions to the community of Girl Scouting, and 2) share how today's girls are discovering their personal paths to leadership through Girl Scouting.
This service is open to Girl Scouts and non-Girl Scouts of all denominations. Participation patches will be available to purchase for $2/each.
The service will be followed by an Oneg Shabbat, generously sponsored by Robin Edelston in honor of Girl Scout Shabbat.
March anniversaries will be given a special blessing and a champagne toast.
Celebrate Passover
with
Greenwich Reform Synagogue
Friday, April 6, 2012 6:00pm
Join Rabbi Sklarz for songs, prayers, and stories
during our catered, family-style,
FIRST NIGHT SEDER
Seder Sponsor: $72
Adult: $36
Child (ages 5-12): $18
Under 5: Free
Your check is your reservation, made payable to GRS,
no later than April 2.
Please contact Erin at
erin@grs.org
if you have any
questions.
Purim Shabbat Service and Celebration
Friday, March 9, 2012, 6:30 pm
Please join Greenwich Reform Synagogue for a fun and musical family service featuring the K-1 class, and enjoy the first annual GRS Purim Shpiel including GRS members and clergy.
Enjoy groggers, hamantaschen and a Parade of Costumes. Prizes awarded to all who come in costume (children and adults).
Free and open to the community. Please contact Erin at 203-629-0018 x221 or erin@grs.org to RSVP.
Greenwich Reform Synagogue
Sunday, March 11, 10:30 am
Special Guest Speaker at GRS
Senator Richard Blumenthal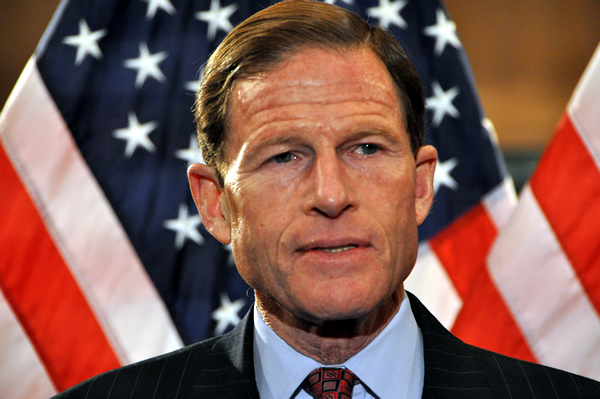 Please join us this Sunday morning at 10:30 am as
Greenwich Reform Synagogue
welcomes a very special guest speaker,
GRS Congregant, Senator Richard Blumenthal.
"Having been a member of this synagogue for many years and celebrated my children's Bar and Bat Mitzvahs here, I have seen the congregation's focus on education, activism, and giving back to the community. These values and the vibrant spirit of the Greenwich Reform Synagogue have inspired young people to be active and involved in community and public service."
The Senator will speak to our adults and teens on his recent trip to the Middle East and will reveal what inspired him to enter politics.
Senator Blumenthal served an unprecedented five terms as Connecticut's Attorney General, fighting for people against large and powerful special interests, before becoming elected to his first term as a United States Senator from Connecticut.
Prior to his position as U.S. Attorney, Senator Blumenthal also served as Administrative Assistant to U.S. Senator Abraham A. Ribicoff, aide to former U.S. Senator Daniel P. Moynihan when Moynihan was Assistant to the President of the United States, and law clerk to Supreme Court Justice Harry A. Blackmun.
Senator Blumenthal graduated from Harvard College (Phi Beta Kappa, Magna Cum Laude), and Yale Law School, where he was Editor-in-Chief of the Yale Law Journal. From 1970 to 1976 he served in the United States Marine Corps Reserves, and was honorably discharged with the rank of Sergeant.

Senator Blumenthal lives in Greenwich, Connecticut with his wife, Cynthia, and their four children.
Reminder: Daylight Saving Time begins again this
Sunday, March 11, at 2 am.
Don't forget to turn your clocks ahead one hour
(We don't want you to be late!)
Greenwich Reform Synagogue
257 Stanwich Road
Greenwich, CT 06830
203-629-0018
203-629-0613 – fax
Upcoming Events
December 15, 2013 9:00 am

Religious School Breakfast

December 15, 2013 9:30 am

Religious School

December 15, 2013 9:30 am

Hebrew 102/Torah Study with Rabbi Rothman

December 17, 2013 7:00 pm

Choir Rehearsal
AEC v1.0.4