Learning
---
Young Families Initiative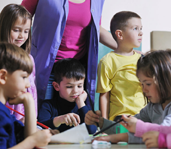 YOUNG FAMILIES INITIATIVE (YFI): Any new family with at least one head of household under the age of 40, or at least one child in the third grade or under is eligible:
Dues: Pay 80% of current regular dues for 2016-2017; 100% of regular dues in following years.
Religious School Tuition: Reduced tuition through third grade, regular tuition for higher grades.
Facility Maintenance Fund: $250 /year
Questions? Contact Executive Director Stephanie Glaser at 203-629-0018, ext. 1001 or stephanieglaser@grs.org. Click here < https://www.123contactform.com/form-668625/Young-Families-Initiative >  to register.
---
GRS Religious & Hebrew School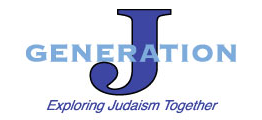 Generation J, Greenwich Reform Synagogue's Religious Education Program continues to evolve for the 2016-2017 school year.  In addition to our regular weekly programming, students in all grades will participate in Family Education Programing where we will invite parents to learn alongside their children several times over the course of the year. They will also have regular opportunities to strengthen their bond with Israel while learning with our Israeli Emissary, and to engage in creative Jewish expression through music and art. Class are held each Sunday, beginning at 9:30 am and ending at 11:30 am.

Parents of students and prospective students are invited to meet with Rabbi Sklarz and our Educational Director, Eliana Hall, to discuss our exciting program! To register click here, or for questions, please call 203-629-0018 or email Eliana Hall at eliana@grs.org. Students gather on Sunday mornings, with an additional midweek meeting for Hebrew instruction.
Our program includes:
Quality time with dedicated teachers
Opportunities for families to learn and celebrate together throughout the year
Options for creative Jewish expression
A collaborative learning and social environment
The exploration of Jewish ethics, values, and celebration
Opportunities to build a meaningful connections with Eretz Yisrael, the land of Israel
Individualized, flexible Hebrew instruction
Judaic and Hebrew instruction that prepares children to become B'nai Mitzvah
Flexible Hebrew Instruction: Private Hebrew instruction is offered on the weekday afternoon of your choice.  Students in grades 3-7 come to the GRS office each for 30 minutes of individual instruction with a Hebrew specialist. Each child receives personally tailored instruction. Students prepare to become Bar/Bat Mitzvah by learning Hebrew reading and prayer, as well as theological concepts, vocabulary, and grammar.
Early Childhood Education at GRS: Young children ages 3-5 are invited to join us every Sunday for Generation J. Together they will learn Jewish customs and values through play, song, artistic expression, and celebration.
Confirmation Academy at GRS: B'nai Mitzvah marks the beginning, not the end of Jewish learning. With two children, Rabbi Sklarz fully appreciates the complex schedules of Greenwich adolescents, and works with them to offer a balance of study, social action projects, and cultural experiences leading up to Confirmation.
Youth Group at GRS: Our teens have the opportunity to participate in a variety of fun and meaningful activities  both with their peers at GRS and with other youth in the Greenwich area. Planning meetings for GRSTY – Greenwich Reform Synagogue Temple Youth – are once per month, and other activities happen throughout the year. Many are planned by our youth themselves.
---
Adult Education
Tired of the same old same old? Greenwich Reform Synagogue offers a variety of adult education classes held at different times, for different interests. Classes are held on Thursday evenings and Sunday mornings; attendance is free but donations are appropriate and greatly appreciated.
Hebrew: Tired of opening your prayer book and seeing undecipherable squiggles? Even with your glasses on? Want to keep up with your kids in Hebrew School? Then it's time to sign up for Hebrew lessons with GRS Rabbi Andrew Sklarz. Beginner's Hebrew meets on Thursday nights at 8 pm. You'll learn how to read the key prayers in Hebrew, plus get a taste of reading and writing in modern Hebrew. Already know the Alef Bet? Join us on Sunday mornings at 9:30 am for the Advanced Beginner's class with Rabbi Sklarz. You'll develop Hebrew reading proficiency and a better understanding of the Shabbat and Holiday liturgy, plus a basic understanding of biblical and modern Hebrew grammar.
Torah study: Deepen your understanding of Judaism by discovering the richness of the Torah. On Thursday evenings at 7 pm, Rabbi Andrew Sklarz will lead Exploring the Torah, beginning with a close reading and discussion of the Book of Genesis. On Sunday mornings at 10:30, Rabbi Robert Rothman will discuss the Wisdom Literature of the books of Psalms and Ecclesiastes. GRS' long-time scholar-in-residence, Rabbi Rothman, D.H.L., D.D., Ph.D., is the Rabbi Emeritus of Rye Community Synagogue.
As GRS member Shelly Kaplan explains: "Other than being born Jewish, I had absolutely no Jewish education. Having experienced Adult Ed at GRS, I'm completely hooked. The classes are fun and welcoming, never intimidating or intense. Without realizing I was learning, I'm now beginning to read Hebrew from the Torah, and have learned so much about our heritage from the classes taught by Rabbis Sklarz and Rothman."
No prior familiarity with Torah study is necessary for any of these classes, and everyone, regardless of background, is welcome. Each class is designed to be a stand-alone session, so come as often as you wish.
Jewish Yoga: Join certified yoga instructor Naomi Norman and discover how to express and deepen your understanding of Jewish spirituality with through the practice of yoga and the study of middot – soul traits. Classes held at 9:15 am on November 9, January 25, and February 22.
For complete details and to register for on all classes, please contact the GRS office at 203-629-0018.