Membership

We invite you to visit our synagogue and meet with Rabbi Sklarz, Cantor Lipton, Executive Director Stephanie Glaser, and our staff.
For more information, please call 203-629-0018 to set up an appointment with our clergy or staff, or to request a phone call from our Membership Committee.
Be a part of our welcoming community! Members of all ages, married, partnered or single, with or without children, of diverse religious backgrounds and orientations, enjoy the friendly, supportive atmosphere found in our warm congregational family; interfaith families especially appreciate our spirit of inclusion. We value the participation of each and every member and sincerely believe that you will find membership in Greenwich Reform Synagogue to be a life-enhancing experience.
Click here to view our fees. Click here for a membership application.
YOUNG FAMILIES INITIATIVE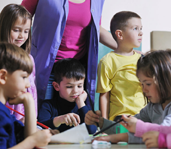 YOUNG FAMILIES INITIATIVE (YFI): Any new family with at least one head of household under the age of 40, or at least one child in the third grade or under is eligible:
Dues: Pay 80% of current regular dues for 2016-2017; 100% of regular dues in following years.
Religious School Tuition: Reduced tuition through third grade, regular tuition for higher grades.
Facility Maintenance Fund: $250 /year
Questions? Contact Executive Director Stephanie Glaser at 203-629- 0018, ext. 1001 or stephanieglaser@grs.org.